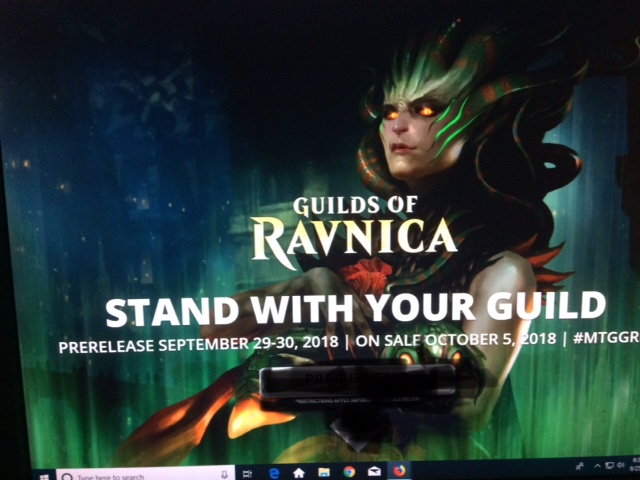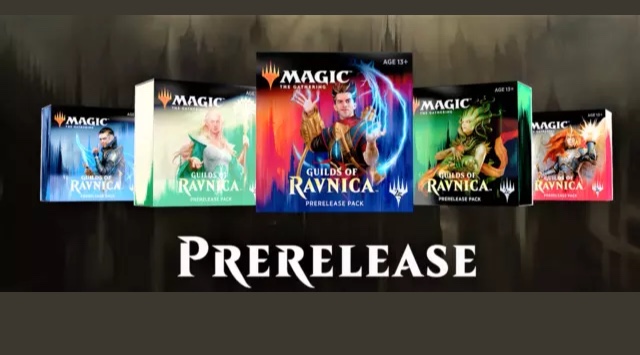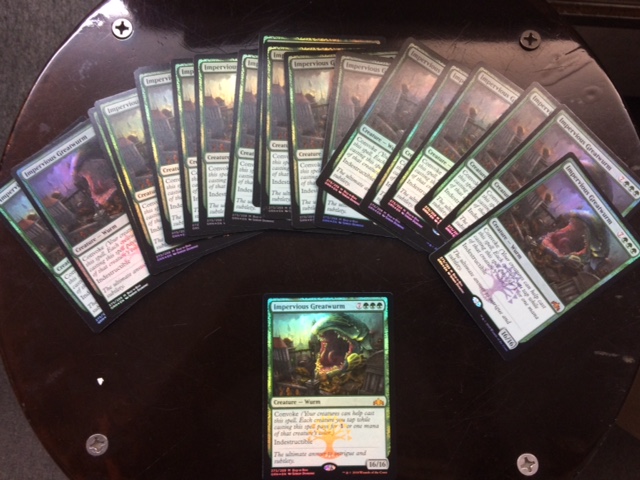 GUILDS OF RAVNICA PRERELEASE INFO & PREORDER FOR BUY A BOX & PROMO PICKUP. 
WIZARDS IS TRYING SOMETHING NEW & ALLOWING US TO PRE-SELL A LIMITED
AMOUNT OF BOOSTER BOXES THAT CAN BE PICKED UP DURING OUR PRERELEASE.
BOXES DURING PRERELEASE WEEKEND WILL BE $100 cash & $105 CC (tax
included) + WILL COME WITH A BUY-A-BOX CARD (WHILE SUPPLIES LAST). TAKING RESERVATIONS / PREORDERS FOR BOXES & EVENT NOW!!
SEPT. 29TH & 30TH, SIX EVENTS 3 SATURDAY & 3 SUNDAY.
SATURDAY'S 3 EVENTS 10am, 1:30pm & 5pm.
SUNDAY'S 3 EVENTS ARE AT 10AM, 1PM & 4PM.

Cost
for all 6 events is $130 cash, $137 debit and $140 credit cards (all
prices tax included). SINGLE EVENTS ARE $22 PRE-REGISTERED & $23 DAY
OF THE EVENTS. SINGLE EVENT DEBIT PRICES ADD $1, CREDIT CARD $1.50. 
REMEMBER YOU CAN PRE-REGISTER AND PRE-PAY for ANY AND OR ALL EVENTS TO
RESERVE YOUR PRE-RELEASE KITS– I WILL HOLD THEM EVEN IF YOU CAN'T MAKE
IT!  THIS IS A GREAT OPTION FOR THE MTG COLLECTOR / INVESTOR IN ALL OF
US!!! On day of event, pay, register and you can drop if you can't play.
You can then take the product and enjoy it at home!!!
PRE-RELEASE PRIZE PAYOUTS: 
3 – 0 = 7 PACKS 
2-0-1 =  5 PACKS 
2 – 0 =  3 PACKS 
1 – 1-1 = 1 PACK ***I've had players get a bye, then draw and get a pack! 😎😉

I hope to see you here!

With Aloha, 
Paula

Minimum
8 players for MTG events to be DCI sanctioned. CASH PAYMENTS PREFERRED
FOR TOURNAMENTS (ANY OTHER FORMS OF PAYMENT FOR EVENTS WILL HAVE
SURCHARGES). Store does accept debit ($10 MINIMUM) & credit cards
($15 MINIMUM) for store purchases.  Any questions please call Paula at
the store ph. (808) 533-4886.


***
BUY-A-BOX
PROMO CARDS USUALLY RUN OUT DURING PRERELEASE WEEKEND. UNLESS YOU ARE ON
MY LIST OF REGULARS WHO ALWAYS BUY BOXES FROM ME, YOUR PROMO WILL BE
HELD AS USUAL.  PLEASE TRY TO PICKUP BOX AND PROMO BEFORE 30 DAYS OR
CONTACT ME TO LET ME KNOW, YOU STILL WANT IT.  NO GUARANTEES AFTER THAT… but that should be enough right? 😉😁😎