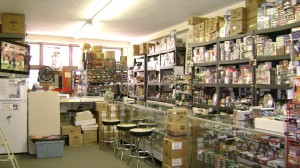 Paula's Sports Cards Etc. first started in 1988 at card shows at the Moiliili Community Center.  Paula opened her first retail shop on an obscure corner of Kinau Street in 1990.  Three years later she moved to her current spot on Wilder Avenue at the Makiki Shopping Village on the second floor. While collectors can find numerous single cards here, our specialty is in selling cards by the pack, box or case.  Some of the additional services that are available to our customers is a buyboard service which allows our customers to post their pulls for others to purchase.Paula's is less than 3 miles from world famous Waikiki Beach and easy to get to via THE BUS. Catch The #4 Bus (Nuuanu-Dowsett via University of Hawaii) if coming from Waikiki and the #4 University-Waikiki if coming from town. Both pass right in front of the shopping complex we are in. We are on the second floor.
STORE HOURS: 

We are open everyday except Sunday and ALWAYS ON CHRISTMAS!!! 
Monday to Thursday:
12:00pm (Noon) – 6:30pm
Friday:
12:00pm (Noon) – 8:00pm. Open later due to Friday Night Magic – FNM. Best to call if planning to come in after 8:00pm.
Saturday:
11:00am – 5:00pm
Sunday:
Closed
Major Holiday Hours
Thanksgiving 12:00pm (Noon) – 4:00pm
Christmas Eve 12:00pm (Noon) – 6:00pm
Christmas Day 11:00am – 4:00pm
New Years Eve 12:00pm (Noon) – 5:00pm
New Years Day 12:00pm (Noon) – 4:00pmOther Major holidays are Memorial Day, 4th of July, Labor day – Noon – 5pm.****any other holidays not listed are regular store hours Noon – 6:30pm.
Paula's Sports Cards, Etc. Makiki Shopping Village Second Floor 1231 Wilder Avenue Suite 206 Honolulu, Hawaii 96822 Phone: (808)533-4886