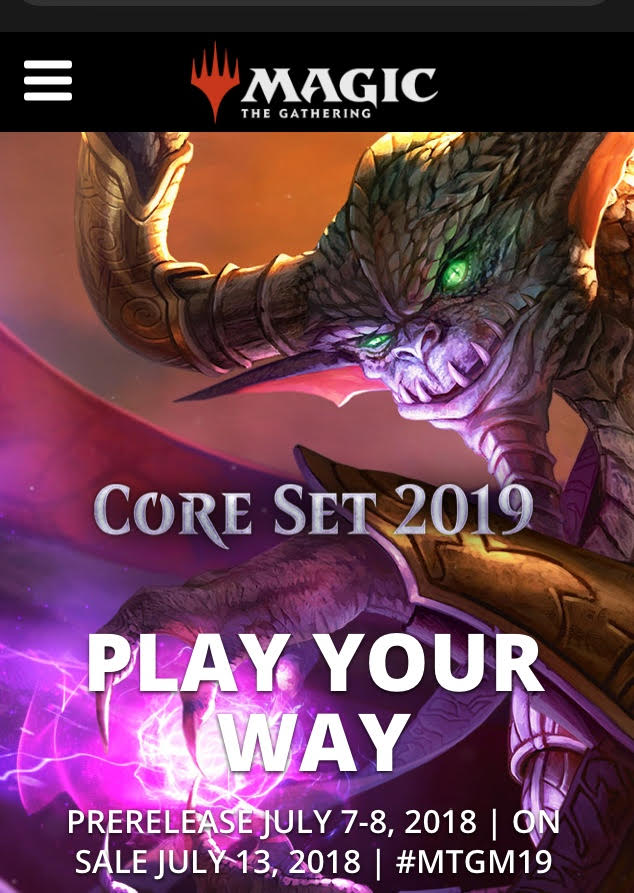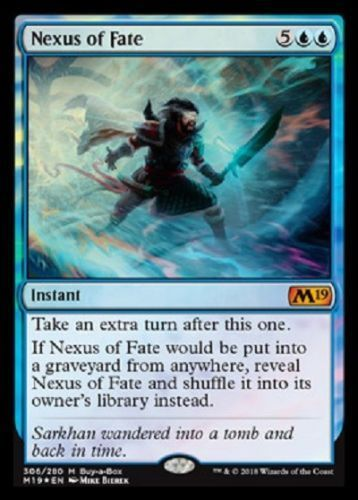 FOR BUY A BOX ANYWAY AND ALL PRERELEASE EVENTS NOW!!
CORE SET 2019 #MTGM19 #PRERELEASE INFO
& PREORDER BOX PICKUP.  WIZARDS IS TRYING SOMETHING NEW &
ALLOWING US TO PRE-SELL A LIMITED AMOUNT OF BOOSTER BOXES THAT CAN BE
PICKED UP DURING OUR PRERELEASE. BOXES DURING PRERELEASE WEEKEND WILL BE
$100 cash & $105 CC (tax included) + WILL COME WITH AN AWESOME BUY-A-BOX
CARD (WHILE SUPPLIES LAST). I SHOULD NOT RUN OUT OF "NEXUS OF FATE" PROMOS ON   PRERELEASE WEEKEND BUT TAKING RESERVATIONS / PREORDERS ANYWAY.
MTG CORE SET 2019 PRE-RELEASE, JULY 7TH & 8TH, SATURDAY & SUNDAY – TWO DAYS – 6 EVENTS! GREAT PRIZE PAYOUTS!!!

SATURDAY JULY 7TH, 3 EVENTS AT 10AM, 1:30PM & 5PM
SUNDAY JULY 8TH, 3 EVENTS AT  10AM, 1PM & 4PM.

COST IS $130 (CASH) IF YOU PRE-REGISTER AND PRE-PAY FOR ALL SIX EVENTS!  WITH YOUR 6
EVENT PRE-REGISTRATION, WE WILL MAKE SURE YOU GET 6 PRE-RELEASE KITS.

PRE-REGISTERED Cost for all 6 events is
$130 cash, $137 debit and $140 credit cards (all prices tax included). 
SINGLE EVENTS ARE $22 PRE-REGISTERED & $23 DAY OF THE EVENTS. ALL EVENTS ARE 3 ROUNDS
SEALED DECK.  SINGLE EVENT DEBIT PRICES ADD $1, CREDIT CARD $1.50.

IF YOU WANT DOMINARIA PRE-RELEASE KITS – WE WILL HAVE!  WE HAVE NEVER RUN OUT DURING ANY PRE-RELEASE EVENTS!!
REMEMBER
YOU CAN PRE-REGISTER AND PRE-PAY FOR ANY AND OR ALL EVENTS TO RESERVE
YOUR PRE-RELEASE KITS– I WILL HOLD THEM EVEN IF YOU CAN'T MAKE IT!  THIS IS A GREAT
OPTION FOR THE MTG COLLECTOR / INVESTOR IN ALL OF US!!!
PRE-RELEASE PRIZE PAYOUTS:
3 – 0   = 7 PACKS
2-0-1  =  5 PACKS
2 – 0   =  3 PACKS
1 – 1-1 = 1 PACK ***I've had players get a bye, then draw and get a pack! 
ALL EVENTS ARE 3 ROUNDS.  
I hope to see you here!
 Paula
Minimum 8 players for MTG events to be DCI sanctioned. CASH PAYMENTS PREFERRED FOR TOURNAMENTS (ANY OTHER FORMS OF PAYMENT FOR EVENTS WILL HAVE SURCHARGES). Store does accept debit ($10 MINIMUM) & credit cards ($15 MINIMUM) for store purchases.  Any questions please call Paula at the store ph. (808) 533-4886.