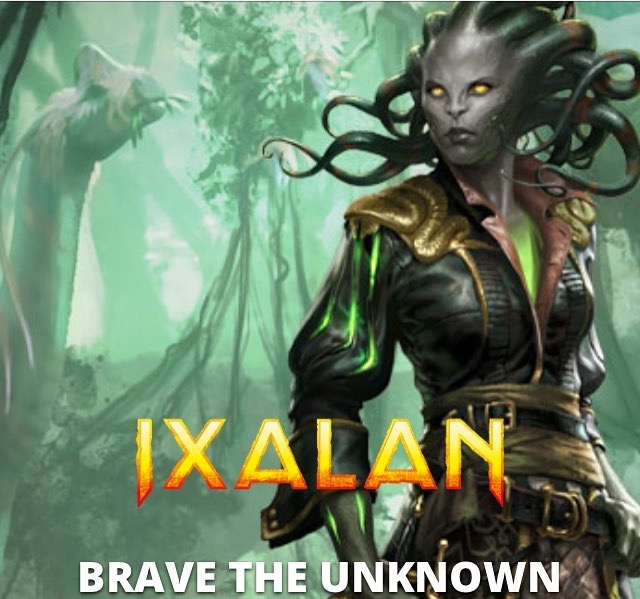 MTG IXALAN PRE-RELEASE,  SEPT 23RD AND 24TH, SATURDAY & SUNDAY – TWO DAYS – 6 EVENTS! GREAT PRIZE PAYOUTS!!!

SATURDAY SEPT 23, 3 EVENTS AT 10AM, 1:30PM & 5PM
SUNDAY SEPT 24, 3 EVENTS AT  10AM, 1PM & 4PM.

COST IS $130 (CASH) IF YOU PRE-REGISTER AND PRE-PAY FOR ALL SIX EVENTS!  WITH YOUR 6
EVENT PRE-REGISTRATION, WE WILL MAKE SURE YOU GET 6 PRE-RELEASE KITS.

PRE-REGISTERED Cost for all 6 events is
$130 cash, $137 debit and $140 credit cards (all prices tax included). 
SINGLE EVENTS ARE $22 PRE-REGISTERED & $23 DAY OF THE EVENTS. ALL EVENTS ARE 3 ROUNDS
SEALED DECK.  SINGLE EVENT DEBIT PRICES ADD $1, CREDIT CARD $1.50.

IF YOU WANT IXALAN PRE-RELEASE KITS – WE WILL HAVE!  WE HAVE NEVER RUN OUT DURING ANY PRE-RELEASE EVENTS!!
REMEMBER
YOU CAN PRE-REGISTER AND PRE-PAY FOR ANY AND OR ALL EVENTS TO RESERVE
YOUR PRE-RELEASE KITS– I WILL HOLD THEM EVEN IF YOU CAN'T MAKE IT!  THIS IS A GREAT
OPTION FOR THE MTG COLLECTOR / INVESTOR IN ALL OF US!!!

PRE-RELEASE PRIZE PAYOUTS:
3 – 0   = 7 PACKS
2-0-1  =  5 PACKS
2 – 0   =  3 PACKS
1 – 1-1 = 1 PACK ***I've had players get a bye, then draw and get a pack! 
ALL EVENTS ARE 3 ROUNDS.  
I hope to see you here!
 Paula
Minimum 8 players for MTG events to be DCI sanctioned. CASH PAYMENTS PREFERRED FOR TOURNAMENTS (ANY OTHER FORMS OF PAYMENT FOR EVENTS WILL HAVE SURCHARGES). Store does accept debit ($10 MINIMUM) & credit cards ($15 MINIMUM) for store purchases.  Any questions please call Paula at the store ph. (808) 533-4886.
****During
Weekend events, tournament players please try to find street parking.
You can park in the lot if you are only playing in one event.  We can find
street parking for 2nd event.  If you are unsure of where to park,
please come early and ask Paula or Keith for assistance.